Click on
thumbnails

below for more details on our various hillside & landscape slide divisions
Double Flume Slides

Single Flume Slides

Double Flume Landscape and Hillside Slides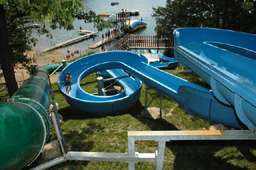 Designed for use in residential applications, public pools or water parks.
Slides come is a wide range of sizes and configurations.
Double the flume, double the fun!
Models:
Mountain Lake
Timber-lee
Yogi Bear
1682 & 1686
1683
Single Flume Landscape and Hillside Slides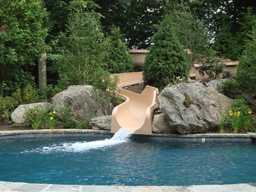 Increase the aesthetic value of you surroundings and provide an exciting and fun water slide experience.
Open Flume Models:
Brasada, Chervin, Edwards, Gorden, Ocala, Tyler Hill
Closed Flume Models:
DeRocker, Dolhare, Hathaway, Holman, Jensen, Mahoney, Pastrana, Piggett, Steinberg, Tri-Valley, Venturi, Worcester
Manufactured with Pride in the U.S.A.